The dental prostheses
Temporary or transitional prostheses
Implant-stabilized prostheses
Removable prostheses attached with bars
Prostheses fixed on top of implants


1. Temporary or transitional prostheses :
Although the French social security considers this class of prosthesis as definitive, we believe they are only useful for specific situations :
While waiting for the implants' integration
For aesthetic research and the implant
To immediately have teeth after an extraction
For planning reasons or money/psychological matters.
These prostheses are made of resin.

Their aestheticism is decent but they are obstructive and removable.
2. Implant-stabilized prostheses: the "O-ring system"
We do not recommend this type of prosthesis except for elderly patients and only for an inferior maxillary use.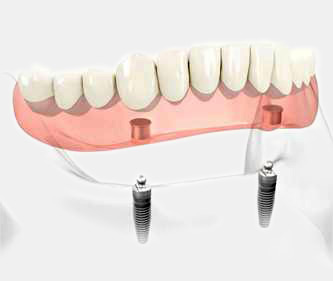 3. Removable prostheses attached with bars : ackerman
1. It is a denture that lies on one or multiple bars, screwed onto one or several implants. It includes ties or specific screws that clip onto the bar.
This prosthesis fixed on the lower jaw can be very attractive if the cost of an attached bridge gets too great. The aesthetic aspect and its affectivity are ensured.
It is a reliable product although the patient will have to replace the ties every year.

4. Prostheses fixed onto implants :
An implant is an artificial root usually made of titanium. Its height varies from 8 to 16mm and its width from 3 to 6mm. The inner part of an implant is threaded in order to receive a hexagon-crowned screw (2mm diameter). The head that can either be external, internal or morse tapered, fits onto a pier (it is the part that enables the jointing with the crown). Nowadays, all piers are screwed onto implants.

The crown can be

All implant manufacturing companies produce for commercial purposes their own type of implants, making them incompatible between them - no homogenization is required for dental implants.
External hexagon-shaped implants - the original implant shape - are the only implants to be compatible with different pier manufacturing companies.

Crowns can be made of :
Resin with a metallic frame
Ceramic with a metallic frame
Ceramic with a zirconium dioxide frame
Resin :
is a flexible cosmetic material that enables a good implant integration if it is immediately set into place.
The aspect is respectable, but not as nice as ceramic materials.
In fact, resin wears out with abrasion, changes color after 5 years (especially if the patient smokes) and can progressively come out with the patient's increase of mastication forces as he gains confidence and practice with its use.
Resin prostheses are usually replaced by ceramic devices within 6 months following the implant surgery.
Ceramic on metal : it is the benchmark material that combines resistance and an aesthetic appearance. It does not alter with time and can serve either as a single unit or for an entire dentition reconstruction.

We usually screw frames onto piers or directly on implants if they already are jointed together. If the implant and prosthesis axes do not match, an angular pier or a telescoped crown are used on the framework to temporarily seal the crown onto it and thus have access to the screws.
Indeed, after working for more than twenty years in dental implantology I have favored screw systems, as they are easier to dismantle.
Yet in some situation such as incisor or canine surgeries, it is impossible to use this type of structure; it is preferable to seal the crown on the pier. The latter can be made of different materials such as :
| | |
| --- | --- |
| | |
| | |
They can be manufactured following a computerized project.
The sealing is temporary to keep an access to the pier screws.
Ceramic prostheses laid on zirconium dioxide : This structure is by far the best in the field: pure ceramic is perfectly accepted by the gingival and has an excellent aesthetic aspect.

The denture is done through the CAD-CAM system: it is shaped and realized in 3D on a computer screen then transferred to a machine-tool that will manufacture the part from a zirconium piece with a one micron precision.
The accuracy and fitting are with this elaborate technique absolutely remarkable.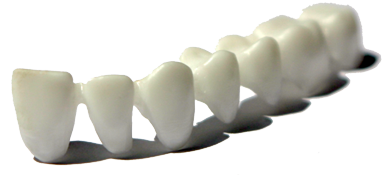 But these exceptional physical properties conceal a flexure sensitivity as it is a very rigid material - it needs to be used with caution :
The framework has to be oversized
A complete dentition restoration needs to be divided in different sections (a bridge divided in 3 parts)
Extensions are not advisable
Avoid over extended bridges
Do not over screw the bridge in as it could tense it up.
This type of technique is very costly and is therefore directed to a wealthy and demanding clientele. Nonetheless, the manufacturer puts the frameworks under warrantee.
Conclusion:
As you will have understood, a multiplicity of solutions enables us to find the best answer to a patient's situation and requirements. Their knowledge combined with our experience allows us to resolve any difficulty, as complex as it could be.
A successful dental restoration is the conclusion of our work and of a conscientious preparation that started within the first appointments with a patient - it is to us the "icing on the cake".