In order to treat you in the best possible way, we first need to know you better. Thus, a questionnaire on your general health and medical history will be given to you. Will then follow a personalized interview in order to determine what are your problems to resolve and your expectations.
This conversation will enable us to identify the goals that we will achieve by the end of the treatment.
A full dental and radiological check-up will be performed.
A micro-sample could also be taken and examined through the microscope.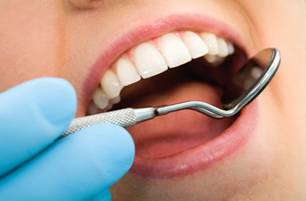 What purpose does a medical check-up serve :
- A small peripheral X-ray: to locate a cavity, to objectivize a cyst or a root fracture, an inadequate medical treatment, etc...
- A panoramic X-ray: to immediately identify bigger complications (tumors, cysts, bone or root fractures) or to appreciate the bone height and density, the teeth distribution, the big cavities, etc... In one word, it enables us to have a global dental "landscape".
- - The scanner or cone-beam: to apprehend the osseous and dental structures in 3D. This check-up enables us to identify sinusitis, which has dental origins (polyps, aspergillosises). It also serves a base for placing dental implants or bone grafting.
-The bacterial check-up: a sample is taken from your dental plaque (sub gingival depot, along the teeth and the roots).
With the help of a microscope, we immediately spot the existing bacteria and its activity level, but also the existence of white blood cells (cells involved in defending your immune system) or other elements (amoeboid).
By the end of the consultation (which can last from 20 to 60 minutes), a personalized medical study will be performed in order to resolve all of your dental difficulties. A treatment plan will be established as well as a fully detailed estimate with the medical care sequences.
If it only consists of a small treatment plan, it will be handed to you in paper form by the end of the consultation.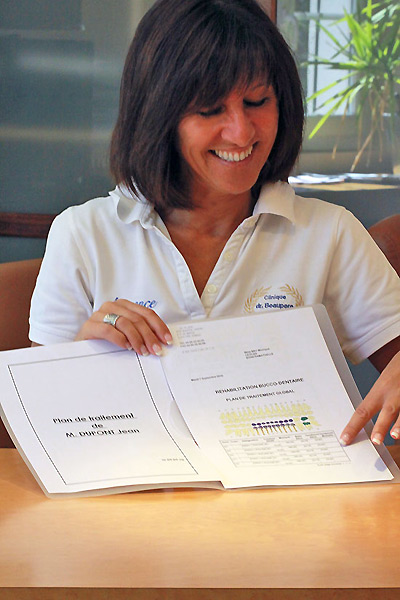 On the contrary, in case of a complex treatment plan, it will be addressed to you by mail within a few days and accompanied by an explanatory document with further details.
You will then be able to question our director regarding your medical care plan.
Once you are fully informed, you will think it through and decide whether you want to start the treatment or not, fully or only partially. You possess all the elements, it will only be up to you. It is your choice to take another appointment with us or not.
Remarks : Many of our patients are surprised by the treatment plan's density because most of the time, they are not aware of their real dental condition. Our role is not to "over treat" or "push to consumption" but to objectivize and offer a long-term solution to your problems.
We still get too many patients in emergency for problems that could have been resolved a long time ago. These medical problems, most of the time due to negligence make you and us lose a lot of time - how many pains and medical complications would have been avoided if they were treated in time?